Felix Bonet - Producer, Vocalist, Musician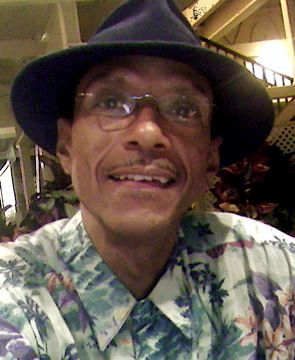 Felix Bonet was born in New York City and studied music at the Universities of Hawaii and Texas.
He Produces, Arranges and Records his own compositions with his Co-Writer, Producer and wife Dagmar Bonet. Felix sings all vocal parts from bass to falsetto, plays percussion and performs in many venues such as Sheraton Hotels, The Outrigger Hotels, The Princeville in Kauai, Blaisdell Arena and Concert Hall, The Shell, The Aloha Stadium, and others venues, throughout the islands of Hawaii, mainland U.S.A., Japan and Europe.
Felix fell in love with vocal harmony at 7 years old when he heard "The Harptones" sing "Memories of you" while sitting under a Zenith hide-away phonograph at his older cousin's birthday party. He learned harmony in the Glee club in school and with friends doing street corner singing where ever they could find an echo. His vocal influences are many and include Stevie Wonder and Gabby Pahinui.
His earliest break came as a blessing in Vietnam where after about 5 month of combat duty he was given the opportunity to sing and play percussion for the troops throughout Vietnam with the Highland sounds, a band in the 173rd Airborne Brigade. Unfortunately his company commander didn't make it back home. 
As a percussionist and featured lead vocalist he is a founding member of groups such as , The Lovenotes Show (inducted into the Doo Wopp Hall of Fame) a 50's, and 60's review, and Nueva Vida, one of Hawaii's top Jazz Fusion groups. Also as a percussionist and lead vocalist he performed with Jetstream a Top 40 Fusion Band whose members include Hawaiian Style band creators and 4 Hoku award winner Wade Cambern, and Grammy award winner Brian Kessler. While performing with Jetstream, they were invited to open the MTV music awards at the Universal Studios in California. Felix also played percussion and sang back up with Hum Ha Jam another local Hawaiian group and BS+2 a light rock group which included Bobby Young and Steve Goodspeed featured Singers-guitarists and another Grammy award winner Randy Lorenzo on bass.
At a Crater festival at Diamond Head Crater he performed with Zig Zag, featuring Augie Rey a longtime friend. Zig Zag also featured Azure McCall popular Jazz vocalist, and Jerry Hey of Seawind a popular Jazz recording group.
Felix appeared on Murder She Wrote-Hawaii episode, Jake and the Fat Man. He recorded with artist such as Henry Kapono of Cecilio and Kapono, Richard Natto of Society of Seven, Nueva Vida, Jetstream, The Lovenotes and Lightbeings.
Felix enjoys performing as a vocalist, soloist or a backup musician and has the pleasure of singing and sharing the stage with many Hawaiian and Mainland artist such as Steve Jones, Robert Shinoda, Danny Kaleikini, Melvin Leed, Frank De Lima, Glen Medeiros, Jeff Apaka and the Village Serenaders, Joan Rivers, Crystal Gale, Stevie Wonder, Stevie Nicks, John Rowles from New Zealand, Bill Summers percussionist of Herbie Hancock, Ed Shaughnessy, drummer with the Johnny Carson Show, Peter Hernandez Sr., Bruno Mars, and is proud to have shared the stage with Hawaiian icons such as Don Ho, Loyal Garner, and Gabby Pahinui. Other Groups Felix performed with are Genesis, Greenwood, Brentwood, TomaNatto, JO-AL, 24 Karats, and The Fabulous Tradewinds. 
Being a "Newyorican" gives him a deep appreciation for Latin music. Not forsaking his roots Felix has performed with several Latin groups such as Arny Reyes Tropical Combo featuring Sandy Sukiyama, Rodney Perez and TropiJazz.  
Felix has also opened for many artists at different venues including Blaisdell Arena, Concert Hall and The Waikiki Shell in Honolulu, such as The Pointer Sisters, Jermaine Jackson, Paul Rodriquez, Andy Bumatai, Los Bravos, Little Anthony, Bo Diddley, Danny and the Juniors, Bruno Mars and many others.
In 2006 he returned from touring in Europe with "The Drifters Tribute Show" at Castillo San Miguel, and as a soloist singing at Jazzissimo Cabaret in Spain.
He performed on the Hawaiian island cruises for Norwegian Cruise Line, and spent a few years on the staff at Nix Performing Art Center as a vocal coach, guitar, and percussion instructor as well as salsa coach.
Felix has held the position of featured lead vocalist as well as vocal director, for The Lovenotes Show. In May 20th, and 21st 2016, Felix was featured with the Lovenotes at the Doo Wopp Hall of Fame Concert Hall at Smith Center in Las Vegas. 
In Las Vegas he was featured with The Island Heat Show at the Kahunaville Theatre, in the Treasure Island Hotel and Casino, Felix and Kat Band, throughout the various night clubs, and did back up vocals and guitar with the Solid Gold Soul Show at Bally's Hotel and Casino featuring Pete "Ray Charles" Peterkin, Debonair "James Brown" Laster, Grady "Jackie Wilson" and "Sam Cooke" Harrell, Talmage "Smokey Robinson" Pearsall, other great singers, and musicians that have performed with artist such as Rose Royce, Buddy Miles, Stevie Wonder, Michael Jackson, Ray Charles just to name a few.
One of the most exciting things that Felix experienced is explained in this article of one of Hawaii's main Entertainment writers:
"Terrific break for the band Jetstream. TV producer Don Ohlmeyer heard the band Wade "Che" Cambern, Tony Gillis, Bill Grannis, Brian Kessler, and Felix Bonet during dinner at Nicholas Nickolas and was so impressed he invited them on the spot to perform for 5,000 top people in the recording industry before the annual MTV awards gala in L.A.".
      Honolulu Advertiser, Wayne Harada
Another highlight of Felix's career came when one of his favorite group said this to the manager of Nicholas Nicholas Restaurant:
"When band Jetstream began playing the other night at Nicholas Nickolas, three fellows asked to be moved closer to the bandstand in the middle of their meal. And when the band played "Night Shift," one of them said: "That's the second best version of that song we've heard behind ours." Quite a compliment-trio turned out to be J.D Nichols, Walter Orange and Milan Williams, a.k.a. the Commodores."
      Star Bulletin, Don Chapman
But the best experience came to Felix when he did the Andy Bumatai after show at the Ilikai Hotel with Nueva Vida a Jazz Fusion Band. One night while they were performing one of Felix's main vocal influences song, at the Canoe House none other than Stevie Wonder himself showed up took the stage and played drums while Felix sang "Do I Do one" of Stevie Wonder's hit songs.